About Potash Hill
An Idyllic Hilltop Campus
Potash Hill is located in the southern Vermont town of Marlboro, between Brattleboro and Wilmington, off Route 9. It is a lovely 560-acre property with early 19th century farm houses, arts and academic buildings, expansive views, fields, private roads, and undeveloped forests with extensive hiking trails. Hartford's Bradley Airport is about 90 minutes away, and Boston's Logan Airport is 2.5 hours by car. There is also daily train service to Brattleboro from east coast cities.
This expansive rural property is spread out primarily over a beautiful, rocky hilltop in the southern part of Marlboro, extending over the border to Halifax, Vermont, to the south. The total combined property consists of 59 buildings with approximately 150,000 square feet. Much of the land is forested, with smaller portions cleared for the central campus, roads, parking areas, fields, and off-campus houses.
Most of the cleared areas and buildings on the central campus are contained within approximately 65 acres. The campus buildings range from original farm structures to the recently completed Jerome and Celia Bertin Reich building. Designed by the Minneapolis-based firm, HGA architects, the Reich building opened in June 2021. It contains three spacious music rehearsal studios, the Maxine and Stuart Frankel Foundation Library—a library for Marlboro's extensive collection of some 8,500 chamber music scores—administrative offices, and social spaces.
The rest of the campus is primarily undeveloped forests. We are committed to preserving this land, which is home to wildlife and contains hiking and cross-country ski trails that are popular with our community and town residents.

Campus Purchase
Marlboro Music purchased Potash Hill in 2021, ensuring that, for generations to come, it will continue to mentor and develop new musical leaders on the campus, and further enrich the cultural life of the region. Marlboro Music was founded on Potash Hill in 1951, by immigrant musicians—the legendary pianist Rudolf Serkin, violinist Adolf Busch, cellist Hermann Busch, flutist Marcel Moyse, violinist/conductor Blanche Moyse, and flutist Louis Moyse. Today, it is led by Co-Artistic Directors—the eminent pianists Mitsuko Uchida and Jonathan Biss—and a devoted staff and Board of Trustees led by its President and Chair, Christopher Serkin.
The Potash Hill campus was the location of Marlboro College, a progressive liberal arts institution, from the College's founding in 1946 until its merger with Emerson College, in Boston, in 2020. During that transition, Emerson announced that it would not be using the property, and Marlboro College sold it to Democracy Builders Fund, which sought to develop a new model for post-secondary education. However, the COVID lockdown and other challenges prevented Democracy Builders from launching its program, and in 2021, they sold the campus to Marlboro Music.
To manage and oversee the property, Marlboro Music formed a subsidiary nonprofit organization, Potash Hill, Inc. They will ensure that the property will be preserved and maintained for Marlboro Music's intensive study program and festival season each summer. They have also formed a 15-member task force, consisting of Marlboro musicians, trustees, and staff members, to oversee an in-depth strategic planning and feasibility process to help determine future uses of the property from September through May each year. The task force is seeking input from interested parties to help determine the best off-season uses of the campus in the years ahead, and as we build support to help cover the costs of conserving this beautiful property and addressing its ongoing maintenance and capital needs.
About Marlboro Music
Under the artistic direction of Mitsuko Uchida and Jonathan Biss (pictured), Marlboro Music is recognized worldwide as the leading center for advanced professional training in music, for initiating the explosion of interest in chamber music in our nation, and for its dynamic and inclusive approach to advanced learning.
For seven weeks each summer, Marlboro forms a closely-knit community of some 65 exceptional young professional musicians and 25 master artists from across the U.S. and around the world, along with staff members, spouses, and children. There are no classes or private lessons. Instead, the senior and younger artists form more than 60 chamber music ensembles each week, and work together intensively, with virtually unlimited rehearsal time and ideal study conditions.
Five weekends of public performances emanate from this program. While the concerts feature only about a quarter of the more than 240 ensembles that rehearse each summer, they represent the exceptionally high standards and spirit of collegiality and artistic discovery that characterize all of the groups. Marlboro's 2023 concert season takes place July 15-August 13, 2023.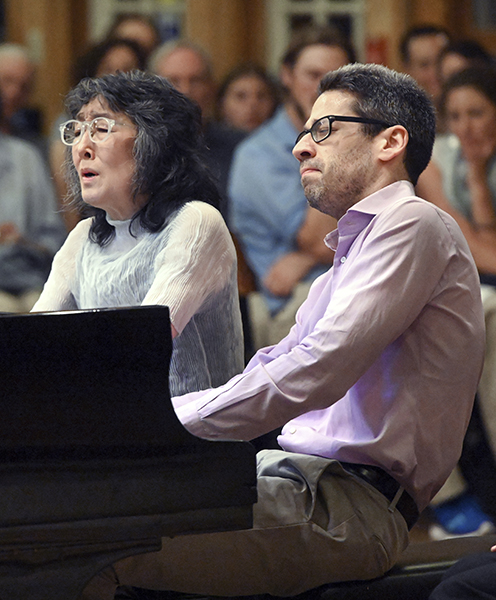 Gallery
Help Us Preserve Potash Hill
We rely on the generosity of friends like you to help us conserve the land and maintain the campus that we all love. Thank you for your support!